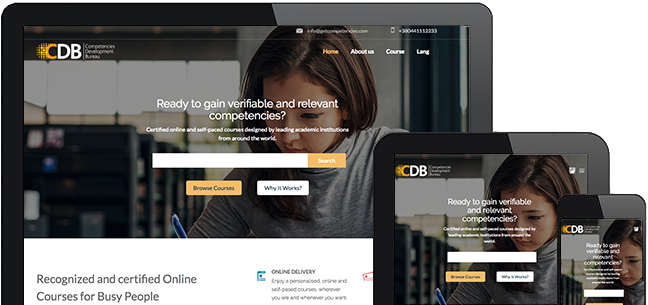 Competencies Development Bureau offers short and certified online courses that have been specially designed by renowned educational institutions from across the globe in partnership with practising experts for busy professionals like you. We ensured that all our programs were tailor made to offer the best educational experience and designed not only for you to study and receive a certificate of recognition, but most importantly to completely master your field of study. All of our courses consist of consecutive easy-to-work-with modules. These modules also contain materials in various formats such as:
Summaries and articles

Text materials with the most
important information
Video lectures
Video records of lectures
given by our teachers
Presentations
Slides with images,
diagrams and tables
Quizzes and assailments

Testing of the knowledge
Help, Support and Discussions
You can get support from us
or connect with other learners
Trainings and meetings

Offline events promoting networking
and hands-on trainings
There are two types of courses offered on our platform:
Free courses
You only need to register to be eligible to participate in any of our free courses. Our free courses are majorly made up of articles, summaries, video lectures and presentation.
Paid courses
Our paid courses usually have a set start date and schedule. This is mostly due to the fact that they require support from teachers and entail various practical tasks and tests.
Training abroad
There are different themes that cannot be thoroughly taught using online courses. Thus, in cooperation with our international partners, we also offer organized trainings in Germany, Lithuania, Poland and Latvia. This is a great chance to apply all the tools in reality, meet exciting new people and see great cities.
The best time to begin is now! Pick your first course and begin your journey!